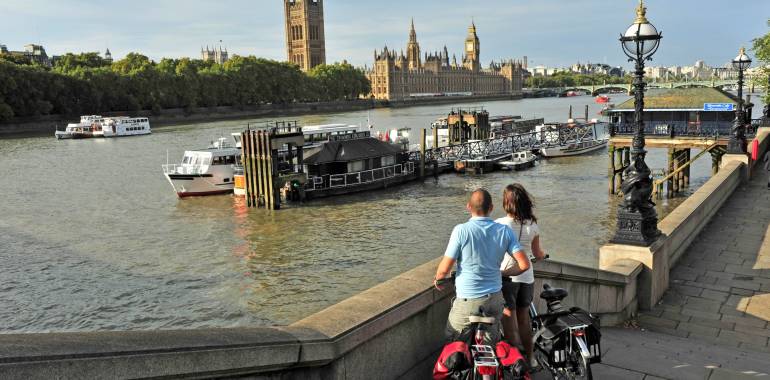 44,46 km cycling route from Redhill to London
Being both city and a region, Greater London welcomes you for the final miles. Crossed by the Thames and crisscrossed by numerous motorways and roads, this vast territory nevertheless offers a quintessentially British quality of life. Many wonderfully landscaped parks, veritable playgrounds for all generations, offer an astonishingly bucolic environment in the very heart of the metropolis. The Wandle Way will take you into London.
Waytypes of the stage
Cycle path: 12,83 km
By road: 17,92 km
The cycle route
From Redhill to Coulsdon and Carshalton, mostly on small roads through the North Downs. A good climb north of Redhill after the passage of the M 23. Caution in cities where the route is not everywhere materialized. From Carshalton to Wandsworth, the route follows the winding but pleasant Wandle Way. Cyclists with little experience or in a hurry can easily take the train to London (avoid peak hours from Monday to Friday). From Wandsworth, link to Chelsea Bridge then NCN 4 to Westminster Bridge, where our route ends. Cycling in London is relatively easy thanks to the new Greenways and other Cycle Superhighways. Free maps published by Transport For London.
Train stations
High station density to reach London in 30'.
Accommodation on the stage