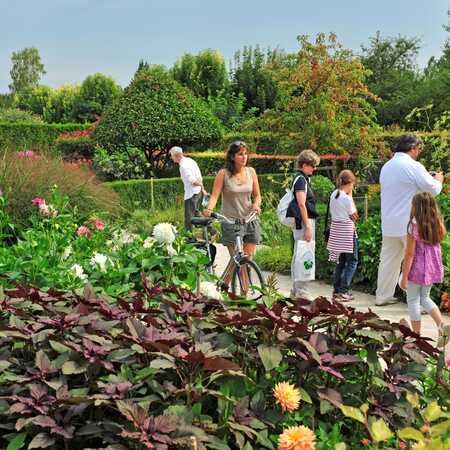 Maison et le jardin de Claude Monet © J. Damase
south
Giverny, a painters' village
Claude Monet's House and Garden
The great painter Claude Monet set up home at Giverny close to the Seine in 1883. Passionate about gardening, down the years, he created extaordinary gardens below the house and they famously inspired his painting.
Most famously, the reflections of waterlillies on the ponds he had created in his gardens inspired Monet's series entitled 'Nymphéas', among the greatest masterpieces ever created by the Impressionists. Thanks to generous American sponsors and the Claude Monet Foundation, his property was beautifully restored from 1980 on.
Close to Monet's gardens, the remarkable Musée des Impressionnismes was inaugurated in 2009. For cyclists using the Avenue Verte, note that Giverny is accessible via an alternative route from the main one, but this is a section that has not been specially laid out for bikes as yet. 
favorite
favorite