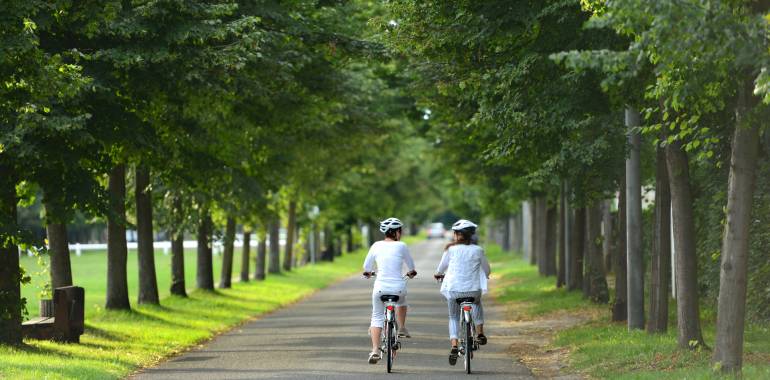 48,99 km cycling route from Maisons-Laffitte to Chaussy
This stage takes you into a haven of green open spaces. Your journey through Saint-Germain-en-Laye forest will bring you to Conflans-Ste-Honorine and thence to the heart of the Vexin Natural Regional Park which will delight you with its lovely unspoilt landscapes. Old villages, manor houses and chateaux, pretty private homes and of course the natural world are all awaiting you.
You can choose between two differents Avenue Verte routes : the Oise Valley via Auvers-sur-Oise, Chantilly…or the Normandy track via Giverny and Gisors.
Elevation of the stage
Waytypes of the stage
Cycle path: 26,23 km
By road: 22,76 km
Surface of the stage
Lisse: 35,20 km
Rugueux: 12,88 km
Inconnu: 0,90 km
The cycle route
You start this stage of the Avenue Verte London-Paris cycle route with a short crossing of the Saint-Germain-en-Laye forest to reach Conflans-Sainte-Honorine. Then cycle paths built on a former railway line from Neuville to Cergy-Pontoise. From Courdimanche, small roads that lead quickly through the French Vexin countryside. From Vigny to Villarceaux, the cycle route follows a succession of small roads with low traffic and roads and paths for cars and paths.
SNCF railway stations
RER A: Maisons-Laffitte, Conflans-Fin-d'Oise, Cergy-le-Haut
Transilien L from Paris-St-Lazare: Maisons-Laffitte, Conflans-Fin-d'Oise.
Accommodation on the stage